Ecommerce offers you the benefit of reaching customers that are unobtainable with a traditional shopping environment.
This shopping cart integrates with all the payment gateways shown on the right of the page. Two websites that use PayPal for the payment gateway are on the bottom right of this page. Simply click each picture to visit the website.
Here are some features of the shopping cart system.
Store Catalog - Administer up to two levels of product categories. Use different images and descriptions for each. Add product options and select to use different types of form fields (ie. checkbox, textbox, radio buttons) for each. Assign options to products and products to categories. Products can be tax exempt, use different shipping prices or weights and use a declining balance inventory. You can designate a maximum for purchases, assign related products and add two different images, write a full description, include items in specials and add additional email text. There are no limits on the number of products, options or categories.
Dynamic Forms - A dynamic form generator is included in this package. The form generator allows users to create multi-level forms and control the input from site visitors. Select which questions to ask, where to ask them, and how they should be answered. Control every aspect of your form needs, without any programming or HTML at all.
Program Settings - Edit all cookie information and control the size of your databases. Enter a design firm name and URL. Choose how long to keep orders and other files on the system.
Site and Store Settings - Edit all owner information including name, address and taxation localities. Set up email rules and configure store settings like discount and category information. Control banner ad rotation, pick a currency symbol and turn on/off the product image displays, specials, shopping cart, tracking and email a friend functions among others.
Shipping Settings - Turn shipping on or off. Choose from three different methods: Default, Custom or UPS Real Time Calculation. Configure each option to best suit the needs of your store.
Online Processing Settings - Select an online processing method from a list of choices including several processing partners or select offline/online credit card processing. Manage form fields, response codes and secure URLs.
HTML and Image Settings - Create and edit HTML pages on-the-fly, without knowing HTML. Administer the header and footer for your site from one location. Install a pre-built theme (skin) or create your own look. Manage background colors and images, font faces, colors and sizes, borders and image sizes. Upload image files directly to the webserver without opening an FTP client. View and delete images just as easilly.
Administrator Login - Create and implement multiple administrator profiles with different levels of access. Change passwords and access rights in real-time. Four different access levels and complete admin logging.
Orders and Payments - Define the required fields on the order form, add or edit taxation localities (states and/or provinces) and administer the country listing. Create discount codes, which allow users to make purchases using store credit or coupons good for dollar amounts or percentages. Choose to let codes expire or not on an individual basis.
Tracking and Statistics - Track orders and follow up on them by entering shipping tracking numbers or delivery dates if you wish. View administrative statisitcs to determine who's been managing the store and what they've been doing.
Email & Banner Ad Utilities - Send email right from the site administrator and run a complete mail list campaign. Manage multiple mail lists, changing descriptions and administering subscribers. Control a full banner ad rotation program. The banner ad plug-in allows users to run their own banner stock and control the location of the banner presentation.
The shopping cart integrates with: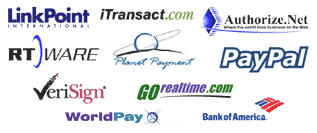 Ecommerce examples